Studying with the Institute of Certified Bookkeepers (ICB) is one of the best study options for potential accountants or bookkeepers in South Africa. In order to get a better grasp of how the ICB works you need to understand the following:
What courses are offered by the ICB
The difference between Bookkeeping and Accounting Courses
The different ways you can study your ICB courses
The different colleges or providers where you can study
The role of your college and the role of the ICB – who does what?
How to register with the ICB
ICB assessments and exams
ICBA Membership and Student Membership
Your options for further studies after completing an ICB course
Accreditation of your College
For the aspiring bookkeeper, accountant, office manager, public sector accountant and entrepreneurial business owner, these courses is a sure way to get a fully accredited and recognised qualification.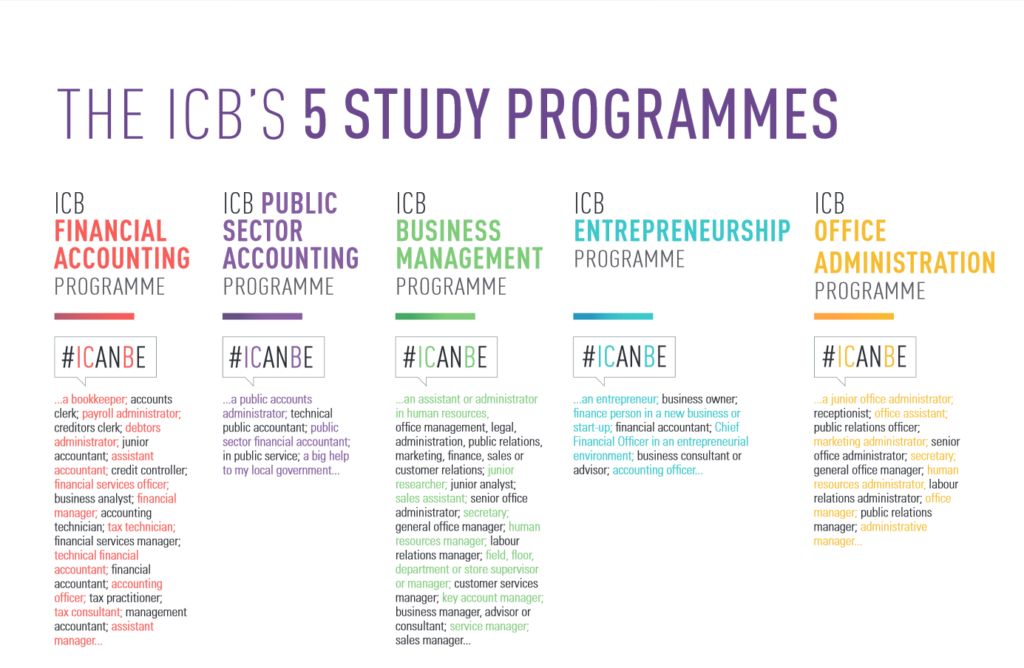 ICB Courses – The different Fields of Study
The ICB supports five areas of study, as follows:
ICB Financial Accounting Courses
ICB Public Sector Accounting Courses
ICB Business Management Courses
ICB Entrepreneurship Courses
ICB Office Administration Courses
Below I shall discuss each of the different fields of study in detail. When you study any of the ICB courses you find in each field, you are studying fully accredited courses. Also note how the different courses and subjects build up to higher levels, and further qualifications. More on this later.
ICB Financial Accounting Programme
The ICB Financial Accounting Programme consist out of four different levels, as follows:
Bookkeeping and Accounting are recognised as scarce skills in South Africa. See this article about Scarce Skills Leading to Jobs. With these qualifications you will never struggle to get a job! And you can build a career from Junior Bookkeeper up to Management Accountant with your ICB qualifications.
You can start at the lowest level, and build up your qualification step by step. These courses are accessible to anyone. To start you do not need Matric. The entry criteria for the entry level courses is Grade 10 (Standard 8) or equivalent. You have to be 16 years of age. And you need no previous knowledge or experience of accounting.
Some of the jobs you will be able to apply for, depending on the level of the course you have completed, are the following: Junior Bookkeeper, Accounts Clerk, Payroll Clerk, Senior Bookkeeper, Junior Accountant, Assistant Accountant, Credit Controller, Business Analyst, Technical Financial Accountant, Financial Manager, Tax Technician, Financial Services Manager, Financial Accountant, Accounting Officer (via SAIBA), Tax Practitioner, Management Accountant and Assistant Manager.
Here you can see how you can build up your career as you build up your qualifications.
ICB Public Sector Accounting Programme
The ICB Public Sector Accounting Programme consist out of three different levels, as follows:
Government departments and municipalities have a shortage of people skilled in Public Sector Accounting. You will learn how to do the correct financial statements, implement internal controls, conduct internal audits and apply good accounting and financial principles.
To start at the Foundation Level you need no previous accounting or bookkeeping knowledge. You must be at least 16 years old. And you need to have passed your Grade 11 (Standard 9) at school; or an equivalent.
You will be able to apply for jobs like Public Accounts Administrator, Technical Public Accountant, Accounting Technician (in the public sector), Public Sector Financial Accountant, Financial Accountant an Accounting Officer. Of course, the level of job you can apply for will depend on the level of the qualification you have completed, as well as your work experience.
ICB Business Management Programme
The ICB Business Management Programme consist out of three different levels, as follows:
This programme prepares you to manage a business and its finances. It is a broad programme that teaches you a wide range of business and accounting skills. You will learn good accounting practices, and also office and legal best practice. You will get to know Human Resources, Computer Literacy, Business Strategy and Research Methods in commerce.
To start this programme you need Grade 11 (Standard 9), or an equivalent qualification on NQF level 3.
ICB Entrepreneurship Programme
The ICB Entrepreneurship Programme consist out of three different levels, as follows:
If you are interested in numbers,  but you also dream about starting, managing or developing a small or medium sized business, then this is the right programme for you.
The subjects in this programme are selected to give you the financial, accounting and commercial skills you will need to make a success of your business. The course also covers strategy, technical skills and personal skills.
At the lower levels of this programme you will probably be looking at starting your own business, or getting involved in a start-up business. At the higher levels you will be qualified to be a Chief Financial Officer in an entrepreneurial environment. You could also be a Business Consultant or even an Accounting Officer (via SAIBA).
ICB Office Administration Programme
The ICB Office Administration Programme consist out of three different levels, as follows:
In this programme we teach you the basics of bookkeeping, and then we go on to teach you all the office management skills you will need – up to the highest level. At the end of this programme you will be able to make any office run smoothly, and help out in any department that needs urgent help. You will be the go-to person that can make any department work smoothly.
This is a great starting point for first-time job seekers. The skills you learn will make you employable in any business. It will put you first in line for promotions. At the end of this programme you will have the skills and confidence to set up and run any office environment. Amongst other things you will learn the basics of marketing, bookkeeping, human resources and economics.
Some of the jobs you will apply for are: junior office administrator, receptionist, office assistant, marketing administrator, senior office administrator, secretary, general office manager or administrative manager… all depending on the level of the qualification you end up with, as well as your work experience.
NQF levels, SAQA ID Numbers and Accreditation – What does it all mean?
NQF Levels
The NQF is the National Qualifications Framework. This is a system that shows the academic level of a course. Matric is at level 4. So we refer to a Matric qualification as an NQF4 qualification.
If you do a qualification that is not a school qualification, you can still see the academic level of that qualification.
In the ICB courses you will see that most of them start at NQF level 3. That means you do not need a Matric Certificate to gain entry to these programmes. You will also see the courses go up to NQF level 6. So that is two levels above Matric level. Meaning it is at Diploma level, or one year short of a Degree level course.
SAQA – South African Qualifications Authority
SAQA is the South African Qualifications Authority. They are the topmost body, regulating education and training in South Africa. A college or a course cannot be "accredited" or "registered" with SAQA. So be careful of people claiming their college is "SAQA Accredited".
All accredited programmes are registred on the NQF, with SAQA. That is why all accredited qualifications have SAQA ID Numbers. It also means you can look up that ID number on the SAQA website, to verify that the qualification actually exists.
All the ICB courses and qualifications have proper SAQA ID Numbers. And that helps you confirm that you can trust that they are properly accredited. If a course does not have an SAQA ID Number, then it cannot be accredited.
Accreditation, however, is not done by SAQA. It is done by a SETA, or by Umalusi, or by the CHE (Council of Higher Education).
SAQA is the body that accredits the different SETAs. So it accredits the bodies that accredit your course or your college.
Accreditation
The ICB is a body solely dealing with Academics. It is a recognised Quality Assurance Partner of FASSET. FASSET is the Sector Education and Training Authority for Finance, Accounting, Management Consulting and other Financial Services).
This means that the ICB is approved by FASSET to accredit courses and course providers for the ICB programmes and courses. The ICG is also the exams body for the ICB courses, offered by training providers accredited by them.
So, although the ICB does not offer training on these courses, they do set and run the exam. And they ensure the quality of the qualification, by ensuring the quality of the exams.
Bookkeeping and Accounting Courses – How do they Differ?
Bookkeeping and Accounting are simply names for the different levels that you will work through in your career. At the lower levels, we call them bookkeeping courses. At the higher levels, we call the accounting courses.
Bookkeeping is mostly the recording of the financial information and transactions of a business. And ensuring it is recorded properly and reported on properly. So you start out as a clerk, that is trusted to be extremely accurate and diligent and trustworthy. This is the start of a career that can take you to the highest levels.
Accounting is the higher level skills and jobs. Here you are no longer responsible for recording the transactions. You are now responsible for the reporting and analysis of those numbers. At this level you are a trusted member of the senior management team.
Bookkeeping Courses
In the ICB, we refer to the Foundation and Intermediate level courses, as Bookkeeping courses. So that will be these two qualifications:
National Certificate: Bookkeeping
FET Certificate: Bookkeeping
The accredited ICB Bookkeeping and Accounting Courses are a great option for students who would like to study an accredited course without a matric certificate. The entry requirement for Bookkeeping: ICB National Certificate, the first course in the series is that you need to have grade 10.
Accounting Courses
Accounting courses in the ICB are the higher level courses that we find at Upper Intermediate level and Advanced level. So that means these two courses:
National Diploma: Technical Financial Accounting
National Diploma: Financial Accounting
Different ways of Study
You can do your ICB courses in many different ways. Here I shall discuss:
Full-time Classroom Study
Distance Learning
Home Study
Online Study
Part-Time Study
Full-time Classroom Study
Full-time classroom study means that you go to class every day. If you have someone paying for your studies, and you can afford to study full-time, then this is the option for you. You will got to a campus every day, and share a class with many other students doing the same course as you.
Distance Learning
Studying ICB courses via distance learning is for people who cannot attend classes. So if you stay far away from a campus where they offer ICB Courses, then you should consider distance learning.
Distance learning means that your course provider sends you books and study notes. And then helps you study over the phone, or email or some online system.
Matric College offers its students the opportunity to study from anywhere in South Africa, via distance learning making it possible for you to earn while you learn. Matric College was born of the belief that every person deserves the opportunity to achieve their Matric, no matter what their age. Matric College also offers various courses, both Accredited and Non-Accredited, to help students achieve their goals.
Matric Courses
No Matric? No problem! You can apply to do your Online Matric via distance learning at Matric College. The Matric Courses on offer are:
ICB Courses
If you are looking to further your studies in the financial or business management field, the ICB courses are just what you are looking for. There are 3 study programmes offered to Matric College students and they are:
National Certificate in Junior Bookkeeping

FET Certificate in Senior Bookkeeping

National Diploma in Technical Financial Accounting

National Diploma in Certified Financial Accounting

Small Business Financial Management: ICB National Certificate

Business Management Office Administration: ICB Higher Certificate

Business Management Financial Accounting: ICB National Diploma

National Certificate in Small Business Financial Management

Higher Certificate in Office Administration

National Diploma in Financial Accounting
Home Study
The ICB courses are ideal for if you are already working, and you need to study while you work. These courses were created in such a way to be accessible to the home study student. Some of the characteristics making them easy to do for a home study student, are the following:
Step-by-step build up of subjects to courses and full qualifications
More than one exam session per year
Your Portfolio of Evidence – getting some of your final marks by doing work at home
Online study groups offered by some course providers
Study materials created especially for students studying at home
One-on-one contact with a qualified lecturer
Part Time Study
Part time study means that you are going to classes on weekends or some evenings in the working week. This is possible if you are near a campus that offers evening classes or weekend classes for part time students.
Online Study
Some of the course providers have branched out to offer online studies. Studying your ICB course online can mean different things, depending on how the course provider is offering the course. Often online study includes the following components:
Study material delivered online – so you read it on your computer or ipad
Videos online to help you with your studies
Online chat groups so you meet and chat with other students in your online classroom
ICB Courses at Unisa
Unisa does not offer the ICB courses. So you cannot study ICB courses at Unisa. In the past, they did offer ICB courses, but they no longer do.
If you want to do your ICB course via distance learning or home study, then there are a number of institutions through whom you can do that.
ICB Course Fees
When you plan to study an ICB course, then you need to take into account all the following costs:
Study fees with your college or course provider
Cost of textbooks (you need to check if your course provider includes all the books and notes in their course fee)
Exam costs (the payments you need to make to the ICB for each exam – there is a fee per subject that you write)
ICBA Membership fees (you can become a Student Member of the ICBA, and there are special student fees for this)
Delivery costs for home study students (are your courier fees included in your course fees?)
What Can I Study After I Have Completed My ICB Course?
The ICB is linked to a number of professional bodies. So, depending on what ICB courses you have completed, you could go on to study further at these professional bodies.
Institute of Accounting and Commerce (IAC)
South African Business Accountants (SAIBA)
South African Institute for Tax Professionals (SAIT)
Chartered Institute of Management Accountants (CIMA)
Keep in mind that no educational institution will accept you without an application process. And every educational institutions has its own rules and regulations. So if you plan to study towards a qualification with one of these bodies after completing your studies with the ICB, then make sure that you understand their entrance requirements and to what extent they will give you credit for your ICB studies, BEFORE you start.
The Role of the ICBA
The ICB is closely linked to a Professional Body called the Institute of Certified Bookkeepers and Accountants (ICBA). The ICBA is recognised by SAQA as a Professional Body and for the registration of seven professional designations on the National Qualifications Framework (NQF).
These professional designations are linked to the different ICB courses. Meaning that if you study a specific ICB course, then that course, together with a certain amount of relevant experience, can get you your professional designation from the ICBA.
There are different designations for the different study streams in the ICB. Below are the designation for some of the most popular courses.
Certified Junior Bookkeeper
Certified Senior Bookkeeper
Certified Technical Financial Accountant
Certified Financial Accountant
Certified Public Accounts Administrator
Certified Public Accountant
ICB Registration – How does it Work?
Once you have enrolled with a training provider (which should be accredited by the ICB), then you need to register with the ICB.
Registration with the ICB is the first step towards being able to gain entry to the ICB exams. You can register online on their Student Portal. Or you can ask your training provider to help you register.
You will need to pay an ICB Registration fee, as well as your ICB Exam Fees.
ICB Correspondence colleges
Accreditation
You can study the ICB courses through a number of correspondence colleges. The first thing to check is that your college is properly accredited by the ICB. For accreditation, the college will have a certificate from the ICB, showing it is accredited for each specific course.
Accreditation shows you that the college is authorised to offer the course. It also shows you that the college adheres to all the accreditation requirements of the ICB and FASSET. This includes things like financial viability, BEE status, proper processes, appropriate study materials, qualified lecturers and a safe working and classroom environment.
ICB Home Study Courses
Course Materials
The ICB courses are perfect for home study. The course material is written for the home study student. That means there are lots of examples and practical work. You are guided step by step through the work, by means of proper study guides.
Home Study Colleges
To study at home, you will need to select one of the home study colleges that offer the ICB courses for home study students. You should look at a number of factors to choose your college. Some of the factors you should consider are:
Are they accredited?
Is ALL the study materials you will need included with the course? Or will you have to buy extra study guides and books?
Will they courier your study material? Or do they send it with the post?
What do people say about them? Do they have a good reputation?
Do they respond quickly when you contact them?
Do they have online "classrooms" or chat-groups for students and lecturers?
Exams
ICB Exams are held four times a year. Exams are in February, May, August and November. So if you need some more time to study, you know that there is another opportunity to write your exam coming up in three months.
Exam Registration Deadlines
Exam registration deadlines are usually two to three months before the exam dates. So, for example, if you want to write your exam in February, you must be registered for that exam by the first week in December.
Home Study Courses
You will find that you can do any of the ICB course as home study courses. The ICB recognise that many of their students have to work and study at the same time. So they have made sure to take into account the needs of the working student.
If you are working, and thinking of starting your ICB studies, then you should consider approaching your employer to help pay for your studies. Many employers are happy to help pay. They might offer your a bursary. Or they might have a policy to refund your study fees once you pass. So make sure you chat to your employer as well!
icb courses distance learning | 
Last Updated: 11 January 2022